Part of an iconic outfit on the runway, the Regenerated Towel Sweater perfectly embodies Marine Serre's contemporary and dynamic vision for menswear. Ingeniously taking on deadstock towels, sourced from towel weaving factories in Les Vosges, France, Marine Serre imagines a tribe who is dressed for a future so warm that towels are needed to absorb the inevitable sweating. The selection of towels is carefully carried out by our Transformation team, choosing only pure cotton jacquard towels in white.

It has a sporty pullover silhouette with a raised, zip-up collar ended with a moon puller. The fringed ends of the towels are placed at the hems as a clever, seamless finishing. As if it were a sports team's emblem, the moon logo is embroidered in the center back. Thanks to this branded gesture as well as the signature, innovative use of upcycled materials, the Regenerated Towel Sweater is without any doubt one of the most exciting and representative pieces of the collection.
100% cotton, lining 100% cupro
LENGTH Measure down the centre of the back, from the top edge of the garment to the hem.


78.5cm / 31" (S)
79.5cm / 31.2" (M)
80.5cm / 31.7" (L)
SHOULDER WIDTH From shoulder point to shoulder point, across the back.


47.5cm / 18.7" (S)
48.5cm / 19.1" (M)
49.5cm / 19.5" (L)
SLEEVE LENGTH Measure in a straight line, from tip of the shoulder to the cuff.


68.2cm / 26.8" (S)
69.2cm / 21.2" (M)
70.2cm / 27.6" (L)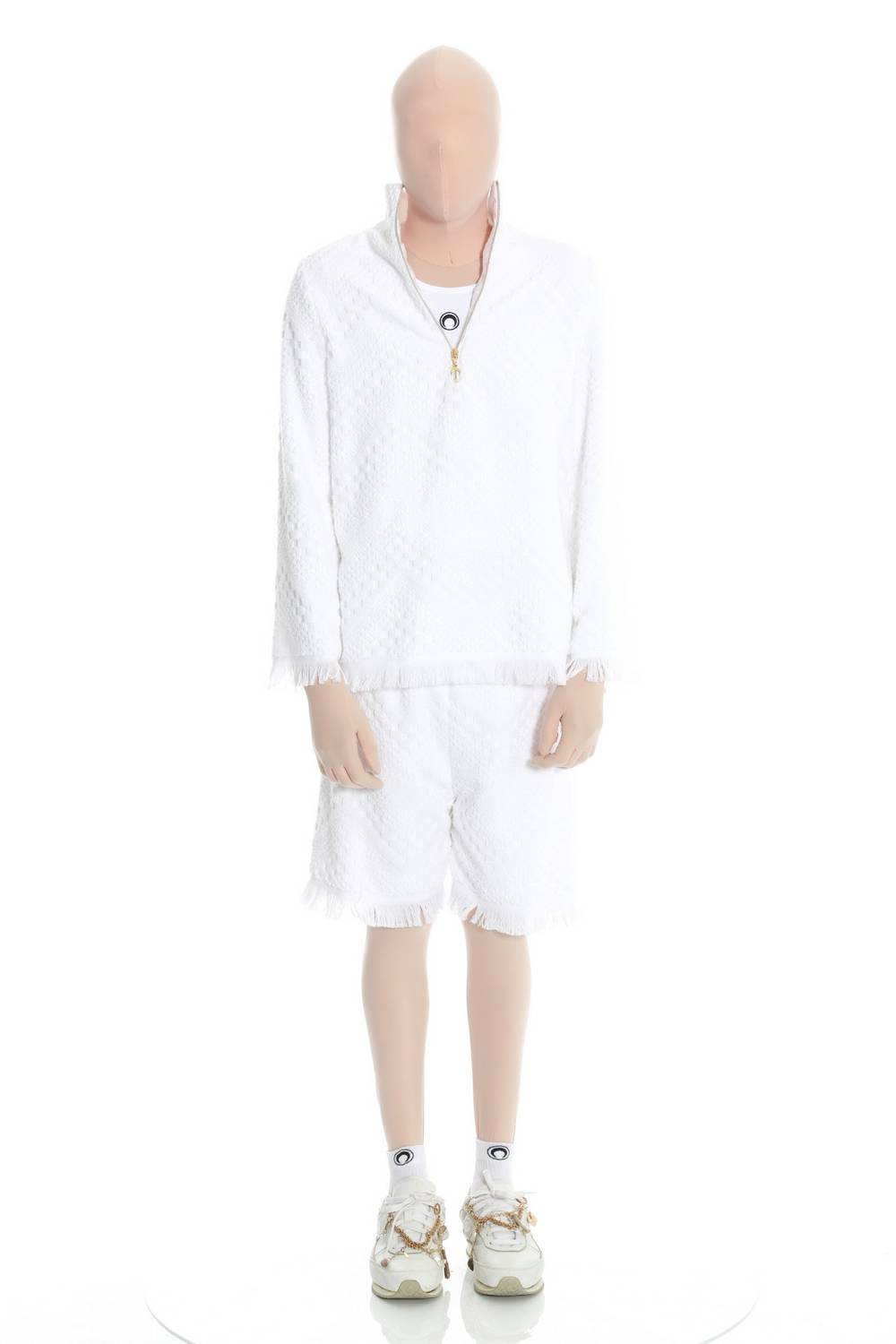 ←
← Back to shop